edition.cnn.com/2016/12/27/asi…
Students give the "Heil Hitler" salute and carry Nazi banners and insignia in photos posted
to the internet, which also show a cardboard tank with German military markings.
According to local media, the December 23 parade was part of a cosplay event, a common
activity where people dress up as characters from popular culture.
"The outcry over the Nazi costumes in Taiwan, while obviously offensive to those ((("educated")))
on this terrible period in history, should remind us of the dangers of cultural relativism,".
"For East Asian countries, World War II was not about the Nazis or Hitler but rather the
Imperial Japanese forces. Comparatively little time is spent in Asian countries studying
World War II Germany than in Europe or North America."
Brennan said Nazi outfits and regalia often have a more punk or anti-establishment meaning in
Asia, rather than a political or historical one.
"'Nazi chic', as it has become known, is an expression of subversion and its wearers in Asia are
largely ignorant of its historical underpinnings," he said.

Permit me to translate the Jewish message:
"Asian peoples, you are stupid ignorant idiots who need to be brainwashed with
our unscientific, unproven, 70 years old war time propaganda, which by the way,
will be payed with your own taxpayer money. We will persecute anyone who does
not conform to our worldview and accept our illegitimate, globalist domination of
your lives. Excuse yourself to us and submit."

Here are more interesting instances of Asian cultural appeal for National Socialism:
Indonesia:
Indonesia's famous NS styled coffee bar: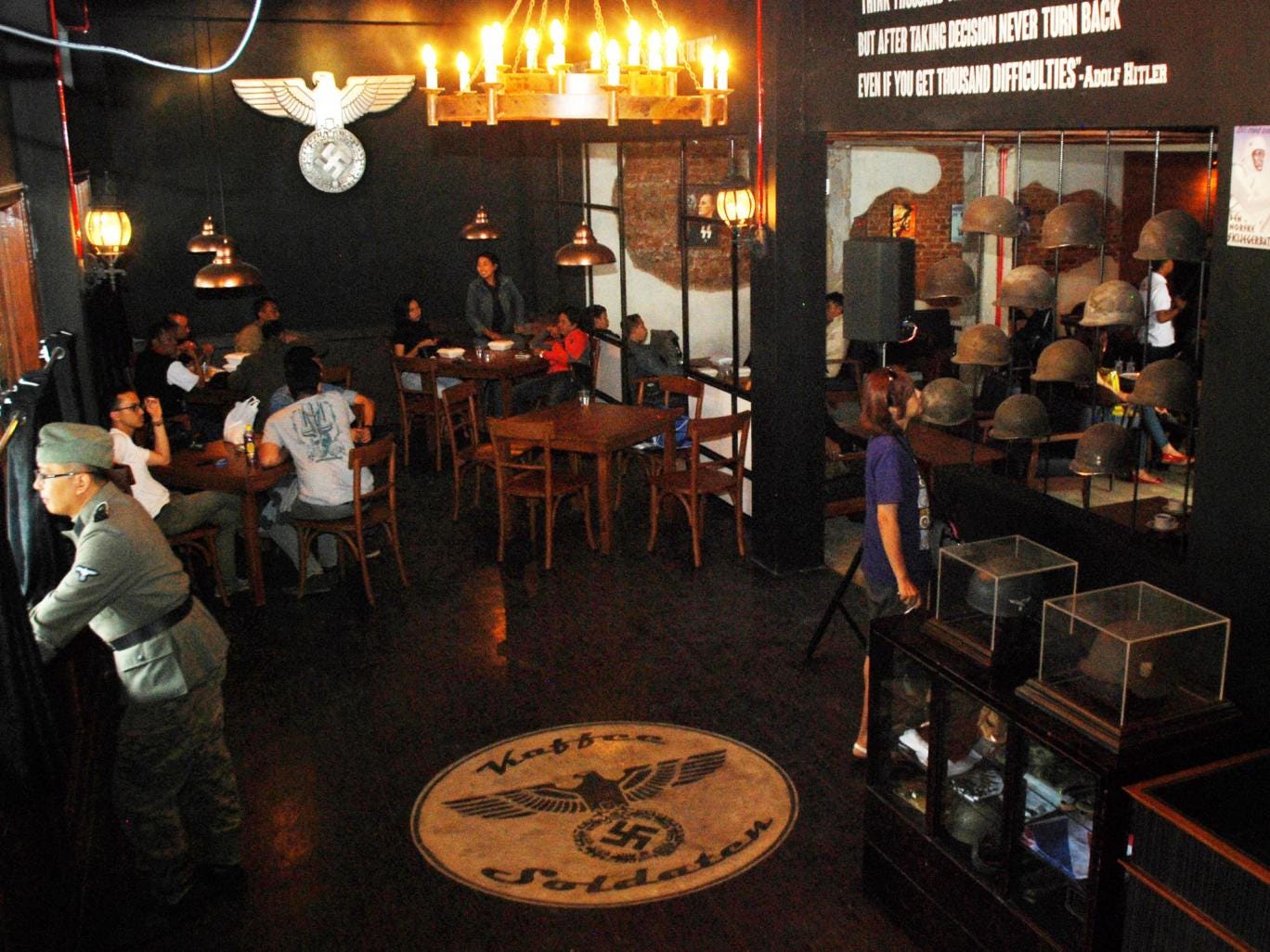 This is very interesting. Everyone should know that Mr Wiesenthal is the perfect
example of the compulsive liar about his "Nazi hunts" and grotesque number of
"miraculous death escapes". He is one of the most cheeky mythomaniac liars
and the organization bearing his name
"teaches the lessons of the Holocaust for
future generations."
In short, spreading political fraudulent Jewish propaganda.
www.thesundaytimes.co.uk/sto/M…
These Asians are not ignorant idiots. They are instinctively inspired by
the powerful ideology and class of National Socialist doctrine. In fact
outside of the Western world, (where Jewish propaganda reigns supreme),
Hitler is very popular. I can only agree and support them against their
oppressors.
------------------------------------------------------------------------------------------------------
---
Copyright Disclaimer Under Section 107 of the Copyright Act 1976, allowance is made for "fair use"
for purposes such as criticism, comment, news reporting, teaching, scholarship, and research. Fair
use is a use permitted by copyright statute that might otherwise be infringing. Non-profit,
educational or personal use tips the balance in favor of fair use.