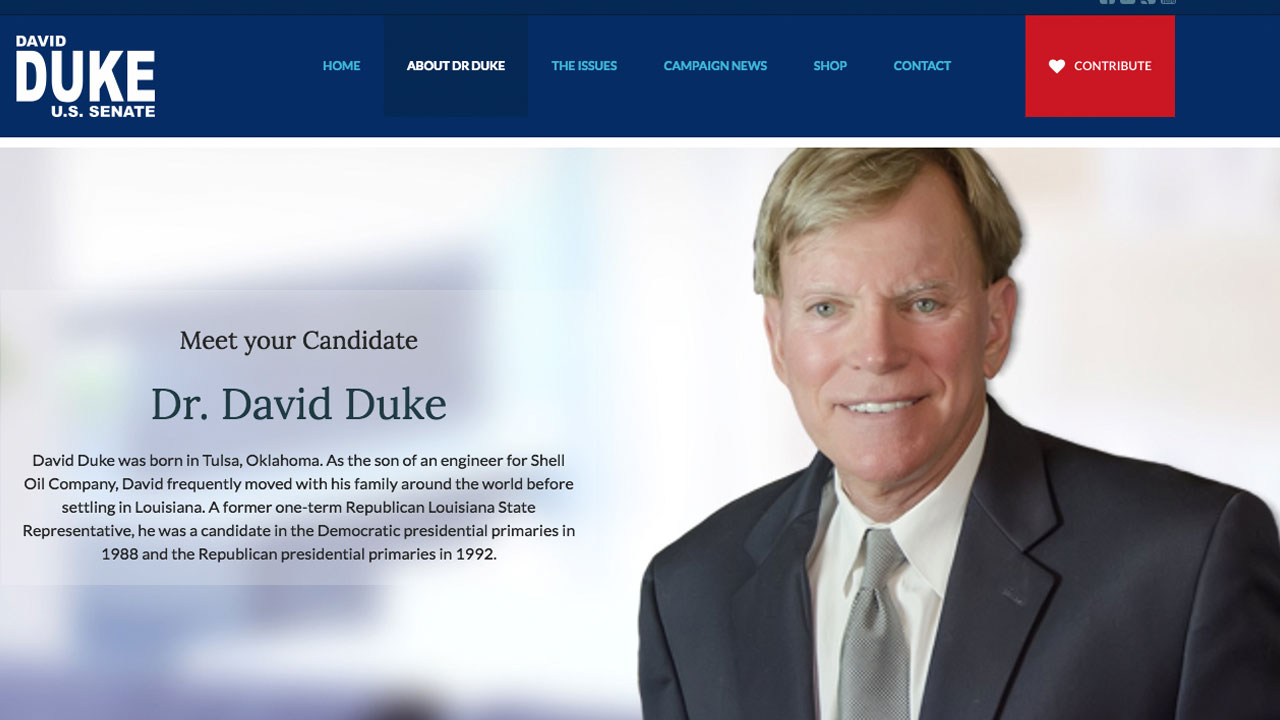 Urgent Final Appeal Before Election
Duke for Senate!
We need your help in raising $25,000 to complete our
TV spots in the remaining areas of the state. These last
days are absolutely critical to our victory that could
change the course of American history!
I really appreciate your support and want to give you an update on this exciting campaign
for U.S. Senate in Louisiana. I qualified as one of the top six candidates and have now been
invited to the only major debate of the U.S. Senate Race -- The only one broadcast on a
number of major commercial TV stations in prime time on November 2nd, just a few days short
of the election. We have a great chance to be in the runoff which will occur on Dec 10th,
but we need your help to get over the top!
At the Campaign headquarters my dedicated volunteer staff and I are working tirelessly to make
the Senate runoff. We are advertising all over the state and need $25,000 more to reach our
targeted areas. Your help can make the difference whether we make the runoff and have the
chance to go to the Senate. No matter where you live in the United States, I will be YOUR Senator
and YOUR Voice in the U.S. Senate. Upon my election anyone who donates to this campaign will
be on our priority guest list to visit with me personally in my Senate Offices in Louisiana or
Washington D.C.!
IN ORDER TO DONATE TO DR DAVID DUKE FOLLOW THIS LINK (Only U.S. citizens):
secure.quiqpayments.com/interf…Watch the Louisiana Senate Debate Tonight on RedIceRadio at 7pm-8pm CT:


Duke for Senate!
Thank you
Dr. David Duke
------------------------------------------------------------------------------------------------------
---
Copyright Disclaimer Under Section 107 of the Copyright Act 1976, allowance is made for "fair use"
for purposes such as criticism, comment, news reporting, teaching, scholarship, and research. Fair
use is a use permitted by copyright statute that might otherwise be infringing. Non-profit,
educational or personal use tips the balance in favor of fair use.